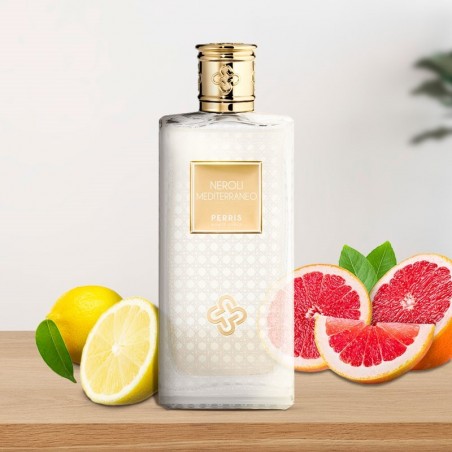 CITRUS PERFUMES
CITRUS PERFUMES, also called hesperides (nymphs from Greek mythology) are usually suitable as UNISEX fragrances.
Its composition is dominated by Mediterranean citrus notes such as bergamot, lemon, orange, grapefruit, lime, petit grain, neroli, orange blossom and tangerine. They can contain aromatic, floral and woody notes.
CITRUS PERFUMES evoke freshness and simplicity, they are fresh, light and clean. The pleasure they provide focuses on the initial, stimulating and optimistic sensation, providing refreshing qualities to the fragrances, vitality and energy to those who wear them, they help us clear our minds and make us feel happy and optimistic, giving us an air of elegance and cleanliness.
They are perfect for summer and suitable for people who are young in body and spirit. And destined for the day to day. They are usually soft and fresh fragrances, characterized by their intense refreshing aroma coming from citrus fruit peels.
.
CITRUS AROMAS contain raw materials with a citrus aroma (verbena and lemongrass stand out). Some of these components are among the oldest ingredients in perfumery, as are the resins.
More modern variations such as grapefruit, grapefruit and Japanese orange were recently discovered for perfume extraction. In most cases, citrus essences are obtained from the peels of their fruits. The PETIT GRAIN is an exception, since it is obtained from the distillation of the branches and leaves of the sour orange tree.
An important component of citrus in BERGAMOT that is often accompanied by flowers and resins in oriental fragrances. They also provide good company for other floral notes, counteracting the sweetness and injecting acidity. BERGAMOT is the most widely used citrus fruit, it has a sweet touch and its name comes from the city of BERGAMO (in Italy).
The essential oils of citrus fruits are usually extracted from their skin, as occurs in lemon, orange (either bitter or sweet) and tangerine (which, being sweeter than orange and lemon, is also used as citrus).
GRAPEFRUIT is also widely used as a fruit ingredient, lately it is widely used as a citrus component.
Citrus fruits are related to vital, optimistic and active people, who prefer light scents to more intense and sweet ones.
Generally, CITRUS FRAGRANCES are related to the warmer seasons (spring and summer), although they can be used in any season of the year.
ALEXANDER J
Mandarine Sultane (cítrica)
CARTHUSIA
1681 (cítrico, floral, amaderado)

Carthusia uomo (cítrico, amaderado)

Aria Di Capri (cítrico, floral, amaderado)

Mediterráneo (cítrico, floral, almizclado)

Via Camerelle (cítrico, floral)

Essence of the Park (cítrico, almizclado)
IL PROFVMO
Mandarine (cítrico, aromático)

Ginger (cítrico, afrutado, amaderado)
TONI CABAL
White Tea (cítrico, aromático)

Tea Rose (cítrico, floral)

Spring Scape (cítrico, floral, Musk)

Fleur d`Orange (cítrico, floral)

Ischia Supreme (cítrico, floral, Musk)

Santorini Supreme (cítrico, floral)
ETRO
Lemos Sorbet (cítrico, aromático, amaderado)

Palais Jamais (cítrico, cuero, tabaco, amaderado)

Shaal Nur (cítrico, floral, aromático, especiado)

Vicolo Fiori (cítrico, floral, amaderado)

Musk (cítrico, amaderado, oriental)

Rajasthan (cítrico, floral, almizclado)
TIZIANA TERENZI
Saiph (cítrico y aromático)

Gumin (cítrico, floral y oud)

Moro di Venezia (cítrico y floral)

Rosso Pompei (cítrico, floral y ambarado)

Bianco Puro (cítrico, especiado, oud)
V CANTO
Stricnina (cítrico, frutal, floral y ambarado)

Arsénico (cítrico, frutal y ambarado)
PALAZZO NOBILE BY VALMONT
Bright Poppy (cítrico, floral)

Fizzy Mint (cítrico, aromático)
STORIE VENEZIANE BY VALMONT
Gaggia Medio I (cítrico, ambarado)
CAMPOS DE IBIZA
Mandarina Fresca (cítrico, aromático)

Cedro (cítrico, aromático, amaderado)
WILGERMAIN
Aqua Fortis (cítrico, floral, acuoso)
S. STRIKES
Vittoria (cítrico, floral, almizclado
PERFUMES ALLER
Auga (cítrico, ambarino, amaderado)