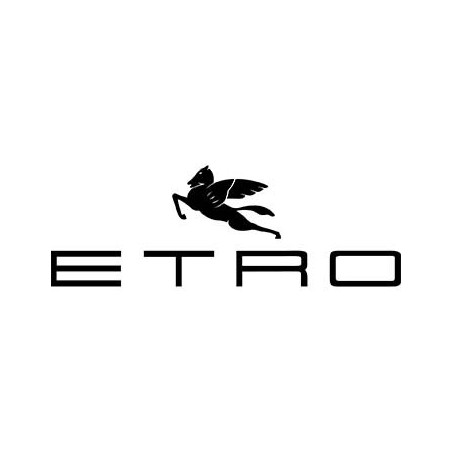 ETRO
Etro is a new concept of tradition. It is the sum of know-how and creative experimentation. Its entrepreneurial adventure began in 1968, when Gimmo Etro, founder of the brand, launched a high-prestige fabric production using noble fabrics and natural fibres embellished with original designs and innovative colours.
The textile accessories line was launched in 1981. The cashmere print used to enrich the first collection became the hallmark of the brand. In 1984, they expanded the product range with wool pieces and a collection of travel bags with geometric and cashmere print fabrics, thus becoming a sign of pure elegance. 
In 1989 they launched a collection of accessories and complements for the home, thus consolidating the brand's style concept.
In the 1990s they continued to grow and presented their first ready-to-wear collection for men and women. Their original designs greatly increased Etro's brand recognition. 
The materials, the workmanship and their special talent have left their mark and make Etro unique and unrepeatable.
The creation of Etro perfumes was a natural consequence and in the 1980s they launched their line of refined fragrances. In the beginning, their formulas were monothematic and focused on woody and spicy notes, but over time, they delved into more complex fields to offer unique fragrances for the most demanding customers. Today they present a wide range of exclusive fragrances, all of which are of natural origin and high quality, and have their own shop in Milan. 
The elegant Pashley design and the powerful Pegasus are the hallmarks of Etro. Both are symbols of the creativity and multicultural vision that defines the brand and represents its values: those themes around which the pazcaging of its perfumes have been designed and which over time have evolved towards a more contemporary and personalised design, always respecting the traditional canons. 
The bottles are presented in boxes of original and modern design with a black and white print and the Pegaso logo. Various colour details differentiate the perfumes: PURPLE for the fragrances, GREEN for the bath line and FUCSIA for the room fragrances and candles. 
THE FRAGRANCE ACCORDING TO ETRO
Each of ETRO's fragrances is made from the ingredients of artisan perfumers.
In this wide and eclectic repertoire, each perfume has its own unmistakable character and personality to express each mood of the day. They are olfactory recipes that come from a unique family, scents that evoke a renowned history - also in the world of fragrances.
They want to put an end to the maxim that "there is only one perfume to which you are always faithful".
One perfume for every occasion does not seem to them to be enough either. The idea of transformation becomes an intriguing game that includes the relative aspect of choice. Personal gratification through exclusive recipes.
We suggest how to invent an exclusive perfume that will allow you to wear a fragrance that matches the moment we live in. 
A COCKTAIL OF SENSATIONS
All ETRO perfumes are ideal to complement each other in an original and unique way. You will be surprised by the effect produced when you spray your skin with more than one of them. In addition, the natural essences that make up ETRO PERFUMES change on the skin and this allows them to start from a very personal base. 
IF YOU WANT TO STIMULATE SENSUALITY
Discreetly: Patchouly + Heliotrope
Intensely: Patchouly + Shaal Nur
Lightly: Etra + Shaal Nur
THE NEED FOR SPIRITUALITY
To stimulate your physical and psychic energy: Palais Jamais + Lemon Sorbet
To introduce you to a mysterious dimension: Palais Jamais + Patchouly
For tranquillity: New Tradition + Shantung
To feel calm and strength: Greene Street + Pegasus
IF YOU ARE IN LOVE
And romantic: Vicolo Fiori + Marketry
And you want to intensify the feeling: Shaal Nur + Heliotrope
And you feel overwhelmed: Etra + Palais Jamais
And you feel on cloud nine: Dianthus + Vicolo Fiori
And you feel sexual: Pasley + Musk
IF YOU WANT TO BRING OUT THE MASCULINE SIDE
Slightly: Sandalwood + Shaal Nur
With virile strength: Vetiver + Patchouly
With sensuality: Musk + Patchouly
Full of power: Green Street + Patchouly
Fresh virility: New Tradition + Pegasus
IF YOU WANT TO BRING OUT THE FEMININE SIDE
Floral explosion: Vicolo Fiori + Dianthus
Intense tenacity: Ambra + Musk
Mysterious sensuality: Dianthus + Ambra
Romantic power: Pasley + Vicolo Fiori
YOUR COLOUR, YOUR PERFUME
RED: it is the colour of fire and the pulse of blood in the veins. In love, it symbolises passion, lust, ecstasy...  A person scented in red cannot go unnoticed, it represents a challenge, a gauntlet thrown down and an invitation to pick it up. Red perfumes are: Patchouli, Raving.
GREEN: the colour of spontaneity and balance between the freshness of the intellect. Green is rebirth, spring, harmonious and unforced awakening. A person scented with green is kind, polite, impartial and enthusiastic. A green perfume is Relent.
YELLOW: it is the colour that helps to focus the objectives. It is invigorating, it is reason, it dispels excessive languor, it calms blind and impulsive passions. From a person scented with yellow we expect help, advice and support. Yellow perfumes are: Lemon Sorbet, Jacquard, Io my self, Pegasus and Resort.
WHITE: it is the colour of the absolute and of sure ideas, it does not admit doubts. It is also the colour of simplicity, innocence and fullness. A person scented in white is determined and naive, tender, positive and immovable. White perfumes are: Musk, Marquetry, Vicolo Foiri and Heliotrope.
BLUE: it is the colour of languor, of docility of the senses, but also of fidelity and wisdom. A person scented with blue means to release tension, to abandon arrogance and to pursue emotional balance. Blue perfumes are: Paisley, Greene Street, Ambra and New Tradition.
VIOLET: it is the colour of intuition and the ability to understand on the fly before others. A person scented with violet will only be noticed if they wish to be, bewitched by their hypnotic abilities. Her soul knows when to exercise the power of seduction. Violet perfumes are: Palais Jamais, Rajasthan and Sandalwood.
ORANGE: it is the colour of vitality and youth, of joy, renewal and enthusiasm. From a person scented with orange we expect a desire to do and to conquer, a tonic sensuality of flirtation and not of melodrama. Orange perfumes are: Shaal-Nur, Etra Etro and Dianthus.